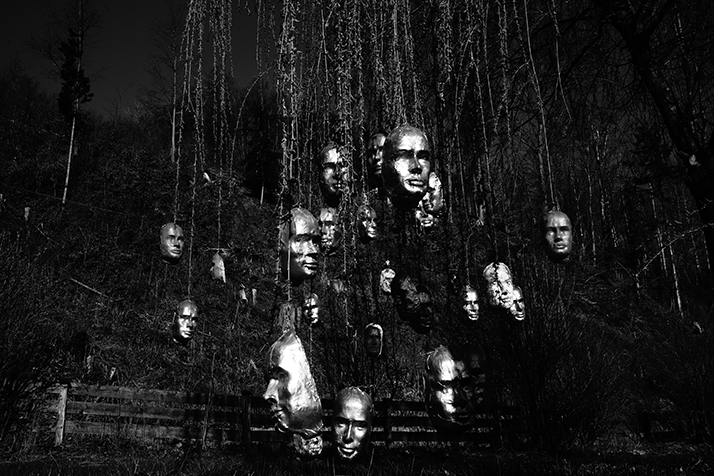 At the end of March 2020 I had mounted 36 masks on the brunches of a tree next to the road. These masks were part of an object from 1999 with the title "Be at home, look out", where they were mounted on an old 6-part window.
Object "sei zuhaus, schau hinaus" 1999/ old window/36 masks PVC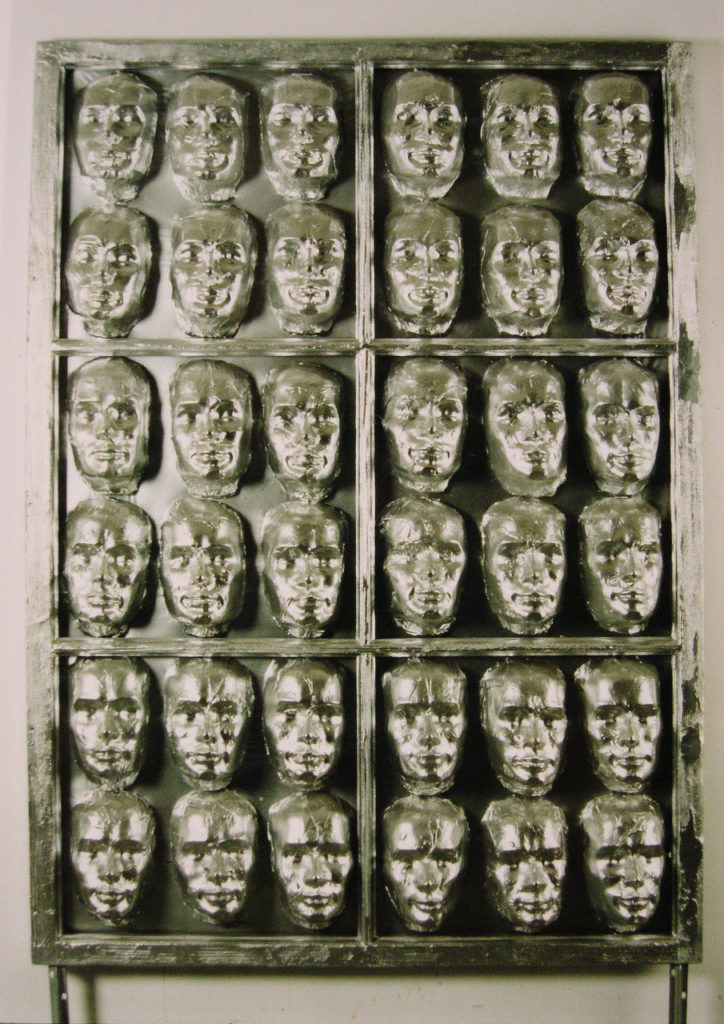 In the years 1997 to 2002 I processed the material PVC as foils into various physical covers. So the standard alabaster face for the production of these artificial "skins/husks" is always the same, but the expression of each individual masks created from it in 3 layers is always different.
At that time it was also about the individual and the integration into the collective. For me, the form of monochrome representation underscored the "equalization", a kind of aesthetically converging ideal norm, like a monoculture.
At the same time, the expressionlessness of this face is an expression for the persona behind it, because in Latin mask is expressed with persona. "In psychology, persona is the outwardly shown attitude of a person, which serves to adapt to social conditions and is sometimes identical to his self-image. (Wikipedia) "
For me, the window represents the view, in this case related to the home, but also the incidence of light, the reality that appears to us reflected in our eyes and in a metaphorical sense, the illuminating knowledge.
The installation "leaves in the wind" was an intuitive preview of the logical changes to come within a society as a result of the most massive actions by governments and global institutions.
It was a logical consequence for me that these changes will primarily not only have a "drastic/trenchant" effect but also divide society according to this adjective.
The lack of an internal point of view, the lack of one's own opinion, and the convenience of being entertained for decades, to absorb without reflection what has been suggested by the usual media, contribute significantly to the fact that people would collide. People who quote the opinions of others with people who get their own picture through reflected thinking from their own observations or from "various independent" sources.
The mask
The proteus mask of existence seems and sounds and may be enough for the child as reality, it will blindly submit to pleasure and tears, depending on how the moguls jumps towards it. You want to reveal it – oh! There is no glimpse through these dazzling, colorful lies to the one who forces chaos into the cosmos mask with mysterious plows. Call him the terrible and your world his mask dress and stay aware that every mask can be bought for money – and this belief, if you hear belief, you have to regard as a stepping stone that rushes you to all interpretations of limitless pleasure.
Gustav Sack (1885 – 1916 (gefallen)), deutscher Dichter